Classic Design Concepts has partnered with StangNet.com in order to produce the Glassback Shelby GT500, the latest flagship project car of StangNet.com.  After completing a once in a lifetime deal with Dean Sellers Ford in Troy, Michigan, StangNet founder Michael Raburn knew he had to make this car stand out amongst the herd of other contemporary Shelby Mustang offerings.  What better way is there to get the job done than to team up with renowned aftermarket designer & developer, Classic Design Concepts (CDC)?  So far, there is none to speak of.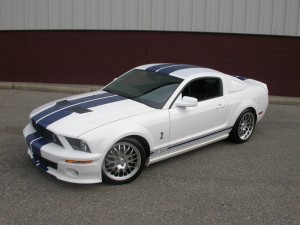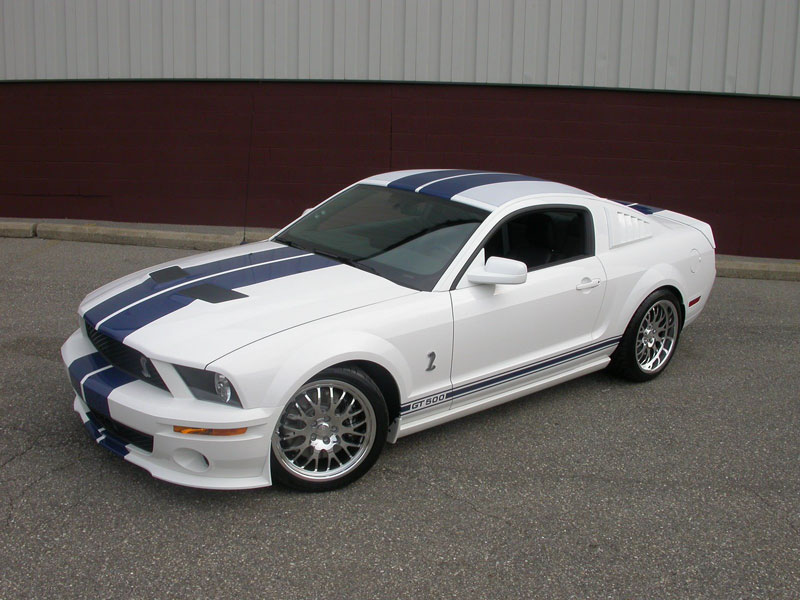 From the completely new, one-off custom crafted CDC Glassback roof to custom paint work (by hand, mind you) performed by Jeff Niffin of Ladd Road, this car is teeming with tenacity and begs for glamorous exposure…and it gets it every time.  Custom Blue painted stripes, a custom massaged rear ducktail spoiler, a painted lower front spoiler, a lower front grille with driving lights, and 2008 GT500 HID headlights are just the beginning of the fantastic exterior package.  Upon a second pass, you'll notice there are C-pillar louvered scoops in place, the sideview mirrors are color-keyed, and the brake cooling ducts (mounted in place of the factory fog lamps) are not just faux pieces–they are ready to put out the impending brake "fire" at the track.
As you head down to the lower levels, the ride is markedly lower, due to a Steeda coilover suspension, which is well-matched to a set of CCW SP20 19″ Wheels–deep dish lip included on the rear.  It's a good thing the lip is there to help widen the traction pattern, as the need to grab the road is assisted by a set of BFGoodrich KDW tires.
Inside the cockpit, most accoutrements are stock (for now) save for a Ford GT Push Button Start System, as well as completely new (yet to officially release) Rockford Fosgate Mustang sound system.  Oh, and of course, should you get caught out of the garage actually driving or riding in this customized Shelby GT500, you can always simply look up and enjoy the skyline through the CDC Glassback.